3ft Pot Grown Fraser Fir Christmas Tree
3ft Pot Grown Fraser Fir Christmas Tree from The Christmas Forest, can last throughout Christmas and beyond with proper care and attention. The tree that keeps on giving. These potted Christmas ... more
In stock, we'll dispatch on a date of your choice
The finest trees you can find anywhere, guaranteed
jQuery('.image-360').click(function(){ jQuery('body').addClass('show-360'); }); jQuery('.close-360').click(function(){ jQuery('body').removeClass('show-360'); }); window.onload = init; var product; function init(){ car = $('.product-image-360').ThreeSixty({ totalFrames: 35, endFrame: 35, currentFrame: 1, imgList: '.product-images-item', progress: '.spinner', imgArray: ["//www.christmasforest.co.uk/cdn/shopifycloud/shopify/assets/no-image-2048-5e88c1b20e087fb7bbe9a3771824e743c244f437e4f8ba93bbf7b11b53f7824c_large.gif", "//www.christmasforest.co.uk/cdn/shopifycloud/shopify/assets/no-image-2048-5e88c1b20e087fb7bbe9a3771824e743c244f437e4f8ba93bbf7b11b53f7824c_large.gif", "//www.christmasforest.co.uk/cdn/shopifycloud/shopify/assets/no-image-2048-5e88c1b20e087fb7bbe9a3771824e743c244f437e4f8ba93bbf7b11b53f7824c_large.gif", "//www.christmasforest.co.uk/cdn/shopifycloud/shopify/assets/no-image-2048-5e88c1b20e087fb7bbe9a3771824e743c244f437e4f8ba93bbf7b11b53f7824c_large.gif", "//www.christmasforest.co.uk/cdn/shopifycloud/shopify/assets/no-image-2048-5e88c1b20e087fb7bbe9a3771824e743c244f437e4f8ba93bbf7b11b53f7824c_large.gif", "//www.christmasforest.co.uk/cdn/shopifycloud/shopify/assets/no-image-2048-5e88c1b20e087fb7bbe9a3771824e743c244f437e4f8ba93bbf7b11b53f7824c_large.gif", "//www.christmasforest.co.uk/cdn/shopifycloud/shopify/assets/no-image-2048-5e88c1b20e087fb7bbe9a3771824e743c244f437e4f8ba93bbf7b11b53f7824c_large.gif", "//www.christmasforest.co.uk/cdn/shopifycloud/shopify/assets/no-image-2048-5e88c1b20e087fb7bbe9a3771824e743c244f437e4f8ba93bbf7b11b53f7824c_large.gif", "//www.christmasforest.co.uk/cdn/shopifycloud/shopify/assets/no-image-2048-5e88c1b20e087fb7bbe9a3771824e743c244f437e4f8ba93bbf7b11b53f7824c_large.gif", "//www.christmasforest.co.uk/cdn/shopifycloud/shopify/assets/no-image-2048-5e88c1b20e087fb7bbe9a3771824e743c244f437e4f8ba93bbf7b11b53f7824c_large.gif", "//www.christmasforest.co.uk/cdn/shopifycloud/shopify/assets/no-image-2048-5e88c1b20e087fb7bbe9a3771824e743c244f437e4f8ba93bbf7b11b53f7824c_large.gif", "//www.christmasforest.co.uk/cdn/shopifycloud/shopify/assets/no-image-2048-5e88c1b20e087fb7bbe9a3771824e743c244f437e4f8ba93bbf7b11b53f7824c_large.gif", "//www.christmasforest.co.uk/cdn/shopifycloud/shopify/assets/no-image-2048-5e88c1b20e087fb7bbe9a3771824e743c244f437e4f8ba93bbf7b11b53f7824c_large.gif", "//www.christmasforest.co.uk/cdn/shopifycloud/shopify/assets/no-image-2048-5e88c1b20e087fb7bbe9a3771824e743c244f437e4f8ba93bbf7b11b53f7824c_large.gif", "//www.christmasforest.co.uk/cdn/shopifycloud/shopify/assets/no-image-2048-5e88c1b20e087fb7bbe9a3771824e743c244f437e4f8ba93bbf7b11b53f7824c_large.gif", "//www.christmasforest.co.uk/cdn/shopifycloud/shopify/assets/no-image-2048-5e88c1b20e087fb7bbe9a3771824e743c244f437e4f8ba93bbf7b11b53f7824c_large.gif", "//www.christmasforest.co.uk/cdn/shopifycloud/shopify/assets/no-image-2048-5e88c1b20e087fb7bbe9a3771824e743c244f437e4f8ba93bbf7b11b53f7824c_large.gif", "//www.christmasforest.co.uk/cdn/shopifycloud/shopify/assets/no-image-2048-5e88c1b20e087fb7bbe9a3771824e743c244f437e4f8ba93bbf7b11b53f7824c_large.gif", "//www.christmasforest.co.uk/cdn/shopifycloud/shopify/assets/no-image-2048-5e88c1b20e087fb7bbe9a3771824e743c244f437e4f8ba93bbf7b11b53f7824c_large.gif", "//www.christmasforest.co.uk/cdn/shopifycloud/shopify/assets/no-image-2048-5e88c1b20e087fb7bbe9a3771824e743c244f437e4f8ba93bbf7b11b53f7824c_large.gif", "//www.christmasforest.co.uk/cdn/shopifycloud/shopify/assets/no-image-2048-5e88c1b20e087fb7bbe9a3771824e743c244f437e4f8ba93bbf7b11b53f7824c_large.gif", "//www.christmasforest.co.uk/cdn/shopifycloud/shopify/assets/no-image-2048-5e88c1b20e087fb7bbe9a3771824e743c244f437e4f8ba93bbf7b11b53f7824c_large.gif", "//www.christmasforest.co.uk/cdn/shopifycloud/shopify/assets/no-image-2048-5e88c1b20e087fb7bbe9a3771824e743c244f437e4f8ba93bbf7b11b53f7824c_large.gif", "//www.christmasforest.co.uk/cdn/shopifycloud/shopify/assets/no-image-2048-5e88c1b20e087fb7bbe9a3771824e743c244f437e4f8ba93bbf7b11b53f7824c_large.gif", "//www.christmasforest.co.uk/cdn/shopifycloud/shopify/assets/no-image-2048-5e88c1b20e087fb7bbe9a3771824e743c244f437e4f8ba93bbf7b11b53f7824c_large.gif", "//www.christmasforest.co.uk/cdn/shopifycloud/shopify/assets/no-image-2048-5e88c1b20e087fb7bbe9a3771824e743c244f437e4f8ba93bbf7b11b53f7824c_large.gif", "//www.christmasforest.co.uk/cdn/shopifycloud/shopify/assets/no-image-2048-5e88c1b20e087fb7bbe9a3771824e743c244f437e4f8ba93bbf7b11b53f7824c_large.gif", "//www.christmasforest.co.uk/cdn/shopifycloud/shopify/assets/no-image-2048-5e88c1b20e087fb7bbe9a3771824e743c244f437e4f8ba93bbf7b11b53f7824c_large.gif", "//www.christmasforest.co.uk/cdn/shopifycloud/shopify/assets/no-image-2048-5e88c1b20e087fb7bbe9a3771824e743c244f437e4f8ba93bbf7b11b53f7824c_large.gif", "//www.christmasforest.co.uk/cdn/shopifycloud/shopify/assets/no-image-2048-5e88c1b20e087fb7bbe9a3771824e743c244f437e4f8ba93bbf7b11b53f7824c_large.gif", "//www.christmasforest.co.uk/cdn/shopifycloud/shopify/assets/no-image-2048-5e88c1b20e087fb7bbe9a3771824e743c244f437e4f8ba93bbf7b11b53f7824c_large.gif", "//www.christmasforest.co.uk/cdn/shopifycloud/shopify/assets/no-image-2048-5e88c1b20e087fb7bbe9a3771824e743c244f437e4f8ba93bbf7b11b53f7824c_large.gif", "//www.christmasforest.co.uk/cdn/shopifycloud/shopify/assets/no-image-2048-5e88c1b20e087fb7bbe9a3771824e743c244f437e4f8ba93bbf7b11b53f7824c_large.gif", "//www.christmasforest.co.uk/cdn/shopifycloud/shopify/assets/no-image-2048-5e88c1b20e087fb7bbe9a3771824e743c244f437e4f8ba93bbf7b11b53f7824c_large.gif", "//www.christmasforest.co.uk/cdn/shopifycloud/shopify/assets/no-image-2048-5e88c1b20e087fb7bbe9a3771824e743c244f437e4f8ba93bbf7b11b53f7824c_large.gif", "//www.christmasforest.co.uk/cdn/shopifycloud/shopify/assets/no-image-2048-5e88c1b20e087fb7bbe9a3771824e743c244f437e4f8ba93bbf7b11b53f7824c_large.gif"], height: null, width: null, responsive: true, navigation: false }); $('.custom_previous').bind('click', function(e) { car.previous(); }); $('.custom_next').bind('click', function(e) { car.next(); }); $('.custom_play').bind('click', function(e) { car.play(); $('.nav_bar').addClass('play-video'); }); $('.custom_stop').bind('clic3k', function(e) { car.stop(); $('.nav_bar').removeClass('play-video'); }); }
We aim to make your Christmas time as joyous as possible, so we offer a delivery service bringing your tree and decorations straight to your door London and Nationwide, helping you tick off another thing on your 'to do list'. For our London customers we also have an affordable London Christmas Tree Installation service available to make festive planning easier.
Our Christmas trees range in size from 3ft to 12ft however, If you require a tree over 12ft (3.7m) we have them, so please call us on 020 3953 8794 to enquire.
Delivery starts from £20 depending on your postcode.
When you add your tree to your order you will be given a choice of date and time slot available to you.
Please Note: We will do our best to ensure your Christmas order is delivered during this time frame, however as we can't control the weather or unexpected traffic/accidents so, on very rare occasions the delivery may be postponed to the next day. Consequently if you need the tree or accessories for a special occasion we recommend you request your delivery a few days in advance.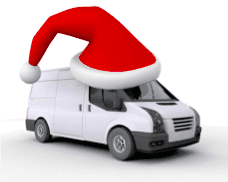 Offering Quality and Premium Christmas Services at affordable prices. Our real Christmas trees are plantation grown and freshly cut for the Christmas season.
Premium Christmas trees, fresh festive greenery and stunning Christmas Lighting all offered at the best prices! We pride ourselves in not only on caring for our trees to generate the best quality, but in also offering convenient and hassle free Christmas services, from delivery to door nationwide to London Christmas Tree Light Installation.. Additionally we offer removal and recycling options making Christmas as enjoyable as possible.
Should you find a better price for exactly the same product and services, we will match it if not beat it! heck our our Guarantee section under the heading Information to learn more.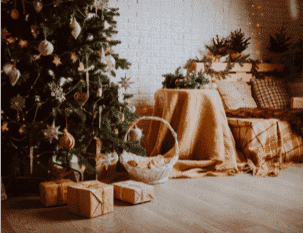 We replenish our Christmas trees every 7 days from our plantations. They are kept watered and given a fresh cut prior to delivery to your home.
Personally hand selected real Christmas Trees. All of our Christmas trees are chosen by our team prior to delivery. We only supply and deliver the best trees. Any trees that do not meet the standard are recycled because we only want you to provide our customers with the best quality possible.
Please refer to our TREE CARE advice to ensure you get the maximum freshness after your Christmas tree is delivered.
Pines and Needles and the Environment
Here is a list of the measures we take to ensure that we play our part in helping the planet:
Pines and Needles is carbon positive for most of the year as our trees absorb Carbon and emit Oxygen. During the Christmas season Pines and Needles is Carbon Neutral as any emissions from transportation and delivery vehicles is offset by the trees still growing in our plantations.
We mainly use British trees from sustainable forests - less air and land miles means reduced emissions!
Pines and Needles mainly uses diesel fuel and has several LPG vans, but is endeavouring to replace its delivery vans with electronic vehicles.
Increasingly Pines and Needles is switching to organically-grown trees. Pesticides can upset the balance of fragile ecosystems.
Wherever possible we encourage the use of power-saving LED lights as these use a fraction of the cost of incandescent bulbs.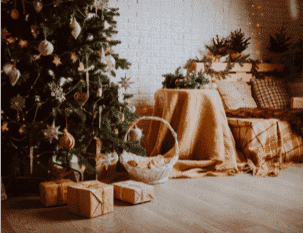 We look to ensure we impact the environment with the gentlest touch. Sustainability is a key topic for Christmas Forest.
Our real Christmas trees absorb a lot of Carbon emission in the air as well as emitting Oxygen for our planet. Within the Christmas period we strive for our emission to be Carbon neutral due to emissions from transportation and delivery vehicles being offset by the trees we are still growing at the plantations.
We are switching to organically grown Christmas trees, as pesticides can upset the ecosystem.
Our plan is to start using electric vehicles.
We sell LED power-saving lights which are more economically beneficial than incandescent bulbs.
We give back to the planet through our TREE AID collaboration with the charity that plants a tree for everyone we sell, having planted 232,725 trees in the Sahel region of Africa so far.
Tier 4 - December 2020
We are open as usual and the new restrictions put in place will not affect our operations and we are pleased to welcome to you our Stores or to use our Delivery Services. Please note we are full COVID-19 compliant.
September 2020
Here at Christmas Forest we love everything about Christmas, the families and communities it brings together and the happiness we all share. COVID-19 has thrown a curved ball at almost every business but we're determined to maintain our high standards of service while ensuring the safety of our staff and you, our customers.
Government advice and guidelines are changing all the time so we'll be reviewing our processes at regular intervals to ensure we all keep safe.
Social distancing will still be important but we have also come up with a solution for contactless delivery, so we can continue to deliver our Christmas Trees, decorations and accessories to those, who for whatever reason, are having to isolate.
So never fear Christmas 2020 is going to be great! We'll make sure of it. For more information click on our full response to COVID-19.